Acupuncture and hebal medicine have been used successfully in the treatment of pain disorders. These may include back pain, joint pain, knee pain, leg pain, neck and shoulder pain, and other varios forms in which pain can manifest. This article will discuss how pain is understood in traditional Chinese medicine.
Not All Pain Are the Same
Pain disorders are very common occurence. Our body is the vehicle in which we operate our lives, and its structural integrity is finite. Eventually, our muscles, tendons, bones, and other tissue begin to wear down, resulting in pain. While pain might seem "the same," its pathology is rather complex and more often that not, the development of pain diseases are drastically different. Chinese medicine and acupuncture has been used to treat many types of pain in all regions of the body, including back pain, leg pain, neck pain, hip pain, shoulder pain, and many other types of pain. This article will entail some of the possible causes and pathology of pain and how traditional Chinese medicine has been used to remedy them.
How is Pain Pathology Differentiated?
There are several factors which help differentiate pain : anatomical location, type of tissue affected, onset, severity, causative factors. For example, bone and tendon pain are treated somewhat differently to muscular and vascular related pain.
Furthermore, there are other factors that influence what treatment strategy(s) a Chinese medicine provider will utilize. These include age, strength, and general health of the patient. In Chinese medicine, pain is differentiated between a patient with strong consititution and weak constitution. For example, a debilitated 80 year-old patient would require a softer and more mild approach to treatments as opposed to a robust 21-year old.
Different Types of Pain
Neurological Involvement of Pain
Pain related to neurological issues are often characterized with numbness, tingling, shooting and radiating pain. This is because pain sensation is a result of sensory nerve receptor activity sending impulses to the central nervous system. However, neurological involvement is no the same as neurologically-derived.
In neurological involved, nerves may get impinged or compromised by tendons and other structures. This type of pain treatment for this kind of pain often requires release of the structures involved. For example, the sciatic nerve may get impinged by piriformis muscle, resulting in hip pain that shoots down to the foot. To treat these, we would release the gluteal muscles. In neurologically-derived pain, there is an actual damaged or compromised nerve such as neuropathy. Treatment for this type of pain involves restoring functionality of the nerve by augmenting circulation.
Vascular Involvement of Pain
In Chinese medicine, pain often results in stagnation of the distribution of blood. This in turn affects the surrounding nerves as well. There will be further discussion below in the "Treatment of Pain with Acupuncture and Herbal Medicine" section of this article.
Traumatic Pain
Traumatic pain is pain that is caused by direct damage of tissues affected. Treatment for this type of pain involves reducing inflammation and promoting cellular regeneration of affected areas. Our recommendation is to avoid exertion of affected areas until there is substantial recovery.
Spinal and Back Pain
Back pain is such a common condition treated by acupuncture. Back pain is much more complex than meets the eye. There can be vascular related back, which often occurs due to poor circulation into the muscles and tendons. There may also be back pain due to spine related conditions such as stenosis (narrowing) of space within vetetrbrae or disc herniation, both of which would be considered neurologically-involved pain. Poor circulation and weakening of sinews can also inadvertently result in disc herniation, as a lot of ligaments stabilize spinal vertebra.  Regardless, they will exhibit some form of inflammation.
Chinese Medicine Perspective on Pain
Chinese medicine views pain as disruption in circulation of the bodily substances. The body structure contains many pathways in which blood, platelets, lymph, fluids and electrolytes, neurotransmitters and other substances,  all of which constitute "yin and yang" energy. It is through what are designated as "channels" in which substances are supplied to the various tissues of the body. From a conventional perspective, these can include blood vessels, nerve tissue, lymphatic vessels, interstitial tissue and muscle fibers. When their circulation are disrupted, this causes local consciousness to be constrained which manifests as pain. Chinese medicine also takes into account the thermodynamics on the body. For example, cold will cause tightening of muscles and tendons, so the treatment strategy would be to warm the affected area.
Treatment of Pain with Acupuncture and Herbal Medicine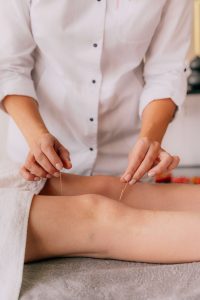 Acupuncture treatments and herbal medicine can be used to help unblock the circulation, thereby alleviating pain. Acupuncture involves inserting needles at various points which help guide circulation and nerve conduction to stimulate a healing response that reduces inflammation, releases tonicity of muscles and sinews, and promotes cellular repair. Herbal medicine works in a similar manner by providing substances to the body to faciliate healing and providing anti-inflammatory effect systemically.
These ancient forms of medicine have adjusted to modern needs and have become more accessible. Patients looking for relief can find these services available 7 days week nearly country-wide. There are currently several clinics available for those seeking acupuncture treatment in Chicago. See below for locations available.